Geoff Lakeman & Rob Murch @ Devoran Acoustic Sessions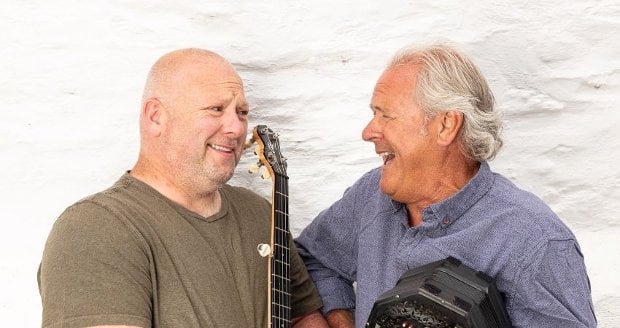 The Titan of Twang and the Concertina Crooner
GEOFF LAKEMAN, patriarch of a folk dynasty – as dad of Seth, Sean and Sam and father-in-law of Cara Dillon and Kathryn Roberts – teases English and Irish folk, Americana and jazz songs out of his vintage duet concertina.
ROB MURCH brings the wow factor to the banjo, with his unique, punchy fingerstyle playing.
Both live on Dartmoor, so it was inevitable they'd gang-up musically. Expect self-written and West Country songs, rattling folk tunes and foot-stomping ragtime and cakewalk riffs.
Rob's percussive finger-ballet up and down the fret board of his 100 year-old instrument is mesmerising. He's revered throughout the UK for his long-time work with the renowned Dartmoor Pixie Band and The Watch trio.
After 50 years as a journalist music-loving Geoff recorded his debut CD ,"After All These Years" at the age of 69, which garnered four and five-star reviews and national radio airplay. He's acclaimed for his " masterful" playing of the rare Crane duet concertina and his " rich, melodic voice."
The duo's relaxed yet sparkling stage presence together is bubbling with the "feel-good" factor.
Between them Geoff and Rob have performed at festivals all over the UK and abroad, theatres, arts centres and folk clubs. They are equally at ease in venues large or small.
This is a 'Tea Treat' concert and afternoon tea will be available in the interval for an additional charge.
Event Location:
Devoran Village Hall, UK
30
Sorry, this event is expired and no longer available.