Mojo Music – Summer Cappella

EarlyBird has expired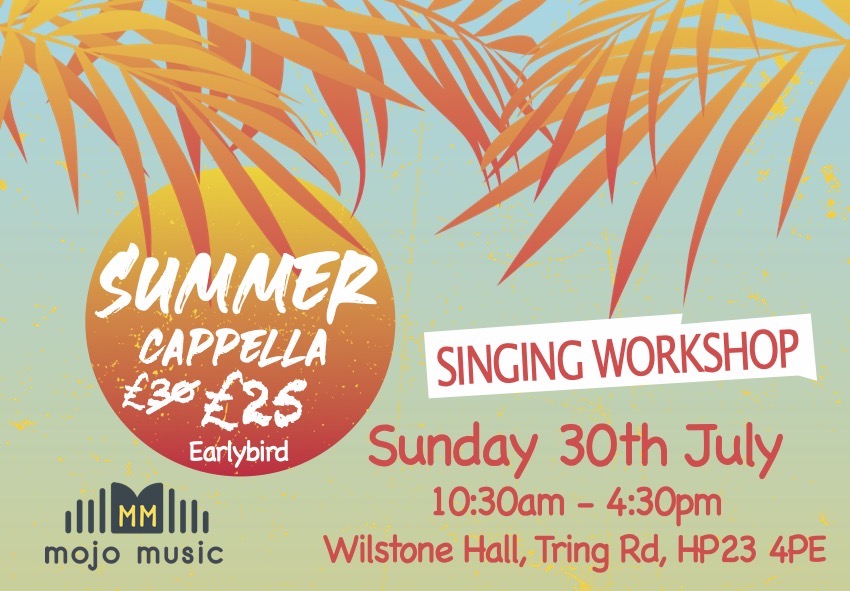 Come on a magical ride through songs of Love, Peace and Joy in glorious 4-part harmony!
You'll be guided through a selection of beautiful short songs of differing styles from around the world. As each song evolves, you'll experience the enchanting properties of the music, harmonies and lyrics as they take you on an emotional journey.
The songs will be led by the 4 members of Mojo, an award-winning mixed quartet.
Four teachers means you will learn the songs quickly and you will always have someone there to support you, if needed.
No singing experience is necessary. No preparation is required. All songs will be taught by ear.
Please bring your own lunch. Free refreshments will be provided throughout the day.
Book early as spaces are limited to 100 people.
Cost: £30 max, the EarlyBird price will increase weekly so buy now if interested!!
Schedule
Session 1
Welcome & WarmUp
World Songs
Break
Session 2

Harmonic Temple

Lunch
Session 3
Barbershop Tags
Break
Session 4
Songs of Love
Event Location:
Wilstone Village Hall, Tring Rd, Wilstone, Tring, Hertfordshire, HP23 4PE, UK
Unlim
Sorry, this event is expired and no longer available.