Spring Sing with Ben and Dom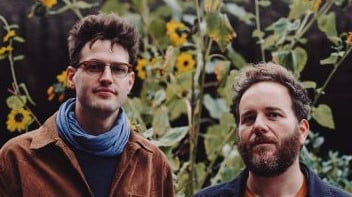 Join singers Ben See and Dom Stichbury for an AFTERNOON WORKSHOP of fun and uplifting harmony singing in which they will teach a selection of accessible and tuneful songs in a relaxed and inclusive way THEN
they will treat you to a short early EVENING CONCERT at which at least one of the songs taught in the afternoon will feature.
We hope that you will return home with a song in your heart and lift in your step.
The workshop is open to all who want to sing. No previous experience necessary, no requirement to read music as everything will be taught by ear.
The Workshop will run from 3 – 5pm.
There will be a break after the workshop for you to have another cuppa (Provided) and to eat some food (which you will have to bring, altho there may well be cake!!)
The Concert will start at about 7.00pm and finish at 8.30pm
Combined Price for the Workshop AND Concert £22.00
Prices for the Workshop only OR the Concert only £12.50
Ben and Dom are a singing duo from South London. Their beautifully blended  harmonies stem from a close friendship and a shared love of singing. They weave their voices through songs old and new, using folks songs and original new material to demonstrate friendship and nature
Find out more about them here
Event Location:
Boscastle Village Hall, Gunpool Lane, Boscastle, Cornwall, PL35 0AT, UK
Event FAQs
Where Can I Park?
There is no parking at the Hall itself but on street parking is available on the Doctors Hill bit of the B3263 (near Boscastle House B and B and above towards Potters Lane) and near the Doctor's Surgery (there may be free unofficial spaces IN the Doctor's Surgery car park). It is a short walk down to the hall on Gunpool Lane. Fore Street is one way (Downhill) and there is NO parking there. There IS parking in Boscastle village centre but it is a half mile uphill walk from there to the hall.
Will there be a bar?
No. But there will be free hot drinks available in the time between the workshop and the concert.
Is there a Bus service
There IS a bus service, but is stops in the later afternoon so would be no good for getting to or from the concert. It might work for the Workshop Only options. The route number is 95 Wadebridge to Bude service